PUNCH NEEDLE: COMEBACK CRAFT FOR 2019
Needle punching is a craft of looping wool. The looping gives a pattern rug appearance. I learned this cool craft at a workshop. I fell in love with punch needle. For me it's like drawing a picture and colouring it in will different colour wool.  At this workshop I got my own needle punch kit to bring home. It is making a big comeback. When you learn how to do it you'll be hooked. Its addictive and very therapeutic. I found I was looking forward to evenings sitting watching Netflix and punching.
Tools you will need; Hessian or linen scrim An embroidery hoop Lots of wool Needle punch You can draw a design onto your hessian or scrim. The first needle punch I did was a very simple design. I practiced and practiced my technique. I sewed my first needle punch design onto a cushion I had. Then I decided to try and make a rug.
To start I drew the words "Get Naked" onto my scrim with a sharpie or felt marker. I used the wooden hoop. I had to keep moving the hoop along. I used chunky wool for this mat. When I finished the punching I made wool pompoms for the edging. I was delighted with how this turned out. I wanted to make more cute accessories for my home with this craft.
If you would like to try punch needle see link to kits. 
https://joannemooney.ie/home/207-punch-needle-kit.html
With punch needle, your tool pierces the fabric on one side and leaves a loop on the other. Traditionally projects are worked from the back so that one side may look like embroidery, while the looped right side looks more like a hooked rug.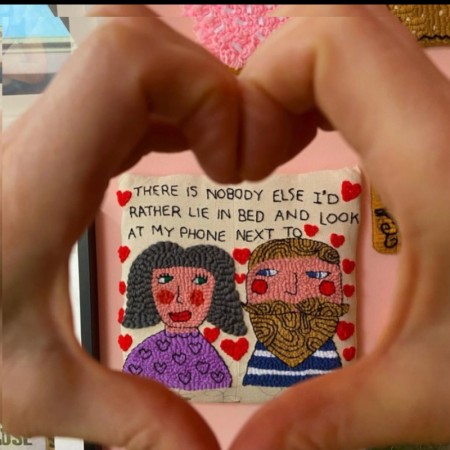 Related posts
When choosing furniture for my house I always look for something a little different. Something...