POM POM CURTAIN TIEBACKS
Make your own pom pom curtain tiebacks
If you follow me on Instagram you know I have an obsession with pompoms and any wool crafts. I am always looking for ways to display them in my home. I re-decorated my daughter's bedroom and I made pom pom curtain tiebacks for her gorgeous mustard velvet Curtains.
My pom pom curtain tiebacks
I used my jumbo pom pom maker to make these pompoms . You can buy these here :
https://joannemooney.ie/new-in/206-3-size-pom-pom-makers.html
YOU WILL NEED:
Wool
Good sharp scissors
Pompom maker
Darning needle
How to make jumbo pom pom
Wrap your wool around the giant pompom maker. The more wool you use the thicker your pom pom. I use loads of wool. Once you have wrapped your wool on both sides of the pom pom maker, cut along the edge of the pom pom maker. You need a good sharp scissors for this part.
Cut off a piece of wool about 10″ double it and tie it around the pom pom. Tie this really tight as this is holding your pom pom together. I do two double knots.
Remove the plastic pom pom maker and there you have a pom pom. Fluff it out and trim it.
I made 14 jumbo pompoms for my tiebacks. 7 for each tieback. You may need more or less pompoms depending on the width of your curtains.
My gorgeous pompoms
Once you've trimmed your pompoms you can start to thread them. Measure and cut a piece of wool that will fit around your curtain.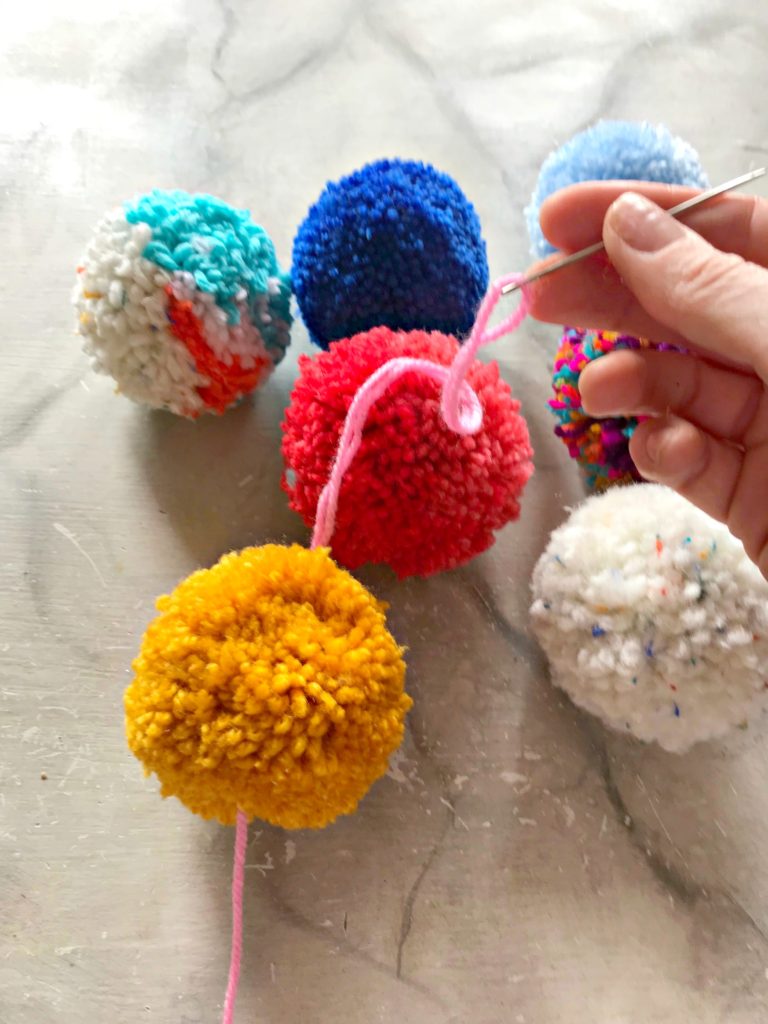 Thread your wool
Add all the pompoms onto your piece of wool. Threading each one with the darning needle./>Once you have the 7 pom poms threaded. Your tiebacks are made. I have a hook in the wall that I just attach my tieback on.
For more wool crafts see link
Related posts
When choosing furniture for my house I always look for something a little different. Something...